LC Jail Ministry
In 2014 Lewis County Chaplaincy Services was asked by the Lewis County Jail Administration to oversee their volunteer program.  There are many dedicated individuals who volunteer their time to support those who are incarcerated and to give them hope and direction for when they are released.  With good guidance and encouragement the released individuals have a much better chance of succeeding in society.
The chaplains and religious volunteers  that work in the jail help to provide for the individuals needs by responding to "kites" that are submitted.  Kites are requests for eyeglasses, books or other items

they may need.  The volunteers help meet the emotional and spiritual needs by listening to their concerns and  providing religious materials and counseling as they request.  The volunteers are non-denominational in their work and provide assistance regardless of their religious beliefs.
Individuals in the jail can attend services once to twice a week as well as attend Bible studies and view religious based self-help books. They can also request to meet with the chaplain on a one-on-one basis to talk and pray.
Chaplain Vicki is one of the chaplains and coordinates the work and training of the volunteers.
"As a chaplain at the Lewis County Jail, I am blessed everyday when I walk through it's doors.  God led me into this ministry while dealing with a family member's addiction.  I see so many individuals believe the lies that society has given them believing that they will never be worth anything or succeed in life.  To be able to tell them they are loved by God and by me and have a purpose of fulfillment is such a gift.
I have heard on many occasions inmates say 'The jail ministry has changed my life.' It is our goal to give them hope and faith for a successful future outside of prison life."-  Vicki
Joan, one of the former inmates tell how the jail ministry has affected her life:
"Several years ago during a tough divorce I began to lean on alcohol for support.  I always felt I had it under control but it just got steadily worse.  After several DUIs and losing my license I was finally sent to jail for a 15-18 month term.
As I was being booked I felt there was no more hope.  In my mind I planned that when I was released I would take my truck, a bottle and end it over a cliff in Lewis County.  I couldn't see any future for me living like this.
Anger followed me everywhere and I couldn't s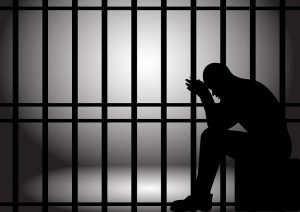 eem to shake it.  Finally I was referred to a chaplain for prayer. I began attending AA meetings and church. We began having Bible studies and had prayer time where I re-dedicated my life to the Lord and I saw and was able to help others do the same.  It was a light in a dark place.
I began building friendships and committed myself to winning certificates and finally won a Bible inscribed with my name.  Even when my fiancé suffered a stroke and passed away I felt hope.
In tough times there were caring people there to give me hope and pray with me.  Being especially drawn to Chaplain Vicki , Sheri and Tammy they became special prayer partners.  These women sparkled with their love for God and gave us so much hope.  I thank God everyday for their support.
 I'd say I became a changed person and even the commanding officers saw the change.  Although I still struggled my faith grew stronger.  This is a very needed ministry.   I'm so grateful to God and Lewis County for this much needed ministry.  It truly saves lives." – Joan